Crocin improves endometriosis
Feb 20, 2019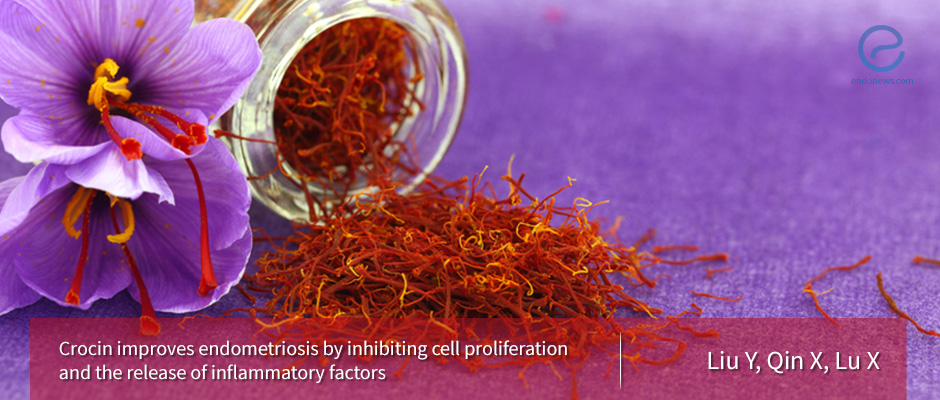 Encouraging new endometriosis treatment that harness anti-inflammatory effect of crocin
Key Points
Highlight:
Crocin has a protective effect on endometriosis.
Importance:
What's done here:
Administration of crocin in the mice model of endometriosis
The following were determined in the mouse studies: endometriotic lesion growth, expression of proliferating cell nuclear antigen (PCNA) and vascular endothelial growth factor (VEGF) in the lesion, serum levels of inflammatory cytokines
The effect of crocin on endothelial cell apoptosis and proliferation; and cytokine production in human monocyte.
Data:
Crocin inhibited endometriotic lesion growth and reduced PCNA (proliferation marker) and VEGF (angiogenic marker) expression.
Crocin reduced the levels of inflammatory cytokines
Crocin inhibited endothelial cell proliferation
Crocin inhibited cytokine production in human monocytes.
Limitation:
This is a preclinical animal study. The protective effect of crocin on endometriosis will need further testing in human to determine it's usefulness.
Lay Summary
Crocin is a carotenoid chemical compound in the flowers crocus and gardenia. It is one of the most important gradients in saffron. Previous studies showed that crocin may have multiple pharmacological effects including anti-tumor, anti-oxidant and anti-inflammation.
There are several therapeutic approaches to treat endometriosis. This includes hormone therapy, which is highly associated with side effect relating to the loss of bone density. Therefore, identifying new medication to inhibit the growth of endometriosis is crucial.
This article by Liu et al. from the Department of Obstetrics and Gynecology, Liaocheng People's Hospital, China which appeared in Biomedicine & Pharmacotherapy aimed to assess the potential effects of crocin on endometriosis.
The results showed that crocin prevented endometriotic lesion growth in mice model. It can reduce serum inflammatory cytokines levels and also prevented the productions of inflammatory cytokine in human monocyte cells. These cytokines include INF-γ, TNF-α, VEGF, and IL-6 in the serum.
Crocin inhibited the expression of proliferation markers and angiogenic markers in the endometriotic lesions, suggesting that its mechanism include inhibition of cell proliferation and anti-angiogenic.
Overall, this study suggests that crocin seems to have a protective effect on endometriosis. These preclinical data warrant future testing of crocin in human clinical trials to further ascertain the usefulness of crocin as being a part of endometriosis treatment.
---
---
drug
inflammation
Crocin
carotenoid chemical
DISCLAIMER
EndoNews highlights the latest peer-reviewed scientific research and medical literature that focuses on endometriosis. We are unbiased in our summaries of recently-published endometriosis research. EndoNews does not provide medical advice or opinions on the best form of treatment. We highly stress the importance of not using EndoNews as a substitute for seeking an experienced physician.
<< Previous Article

Next Article >>