Correlation between Treg cells and peritoneal lesions in women with ovarian endometrioma
Apr 26, 2019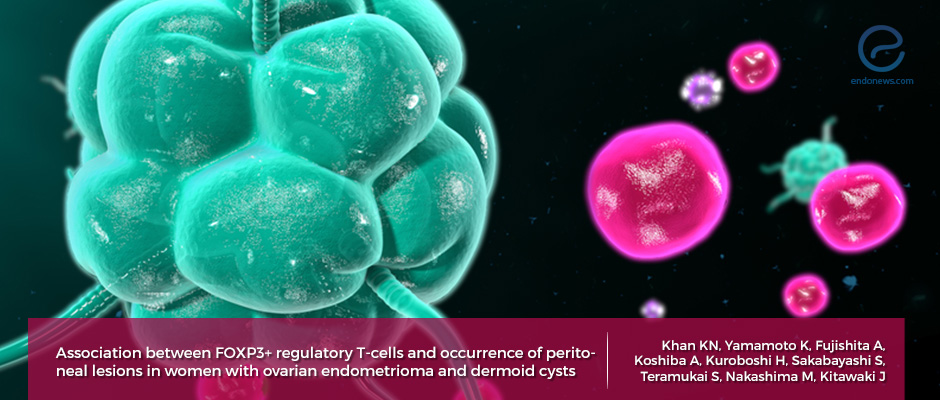 Regulatory T-cells: the answer to peritoneal lesions
Key Points
Highlight:
Importance:
What's done here:
Data:
Limitation:
A number of limitations have been highlighted by the authors:
Lay Summary
It is increasingly suggested that defective immune response is responsible for the survival and development of ectopic endometrial cells into endometriosis. In women with endometriosis, the immune system fails to create an inflammatory process that destroys endometrial cells at the ectopic site. One emerging research in this area is the role of a population of anti-inflammatory populations of T lymphocytes, called regulatory T (Treg) cells, which are potent immune response suppressor important to prevent immune destruction in all tissues.
A number of recent showed a higher number of Treg cells in the eutopic endometrium, peritoneal fluid and peripheral blood of women with endometriosis than women without endometriosis. However, no study has examined the pattern of Treg cells in peritoneal lesions collected from women with ovarian endometrioma or dermoid cysts.
This study published in "Reproductive Biomedicine Online" conducted by Khan et al. from the Department of Obstetrics and Gynecology, Graduate School of Medical Science, Kyoto Prefectural University of Medicine investigated Treg cells in these peritoneal lesions. The research group previously demonstrated significantly more pelvic pain in ovarian endometrioma with coexisting peritoneal lesion than those without peritoneal lesion. Thus, it is important to understand the role of Treg cells in the peritoneal lesions.
The study collected peritoneal lesions from 27 women with ovarian endometrioma and 25 women with dermoid cysts. In addition, peritoneal fluid was also collected from 36 and 42 women with ovarian endometrioma and dermoid cysts, respectively. The tissue expression of Forkhead box P3 (FOXP3), a specific marker for Treg cells and transforming growth factor-beta (TGF-β) were examined by immunohistochemistry. Levels of Interleukin-6 (IL-6) and TGF-β levels in the peritoneal fluid were measured by enzyme-linked immunosorbent assay.
The data showed that ovarian endometrioma with coexisting peritoneal lesions was more frequent than dermoid cyst with coexistent peritoneal lesions. Numbers of FOXP3+ Treg cells were higher in the peritoneal lesions of women with the coexistence of ovarian endometrioma and dermoid cysts than without. High FOXP3+ Treg cell numbers in peritoneal fluid of women with peritoneal lesions correlated with high TGF-β, and low IL-6 levels.
These findings concur with the current idea that endometriosis development is related to alteration in Treg cells.
---
---
immune system
inflammation
DISCLAIMER
EndoNews highlights the latest peer-reviewed scientific research and medical literature that focuses on endometriosis. We are unbiased in our summaries of recently-published endometriosis research. EndoNews does not provide medical advice or opinions on the best form of treatment. We highly stress the importance of not using EndoNews as a substitute for seeking an experienced physician.
<< Previous Article