Comparison of two different surgical approach to deep colorectal endometriosis in terms of postoperative outcomes.
Oct 12, 2023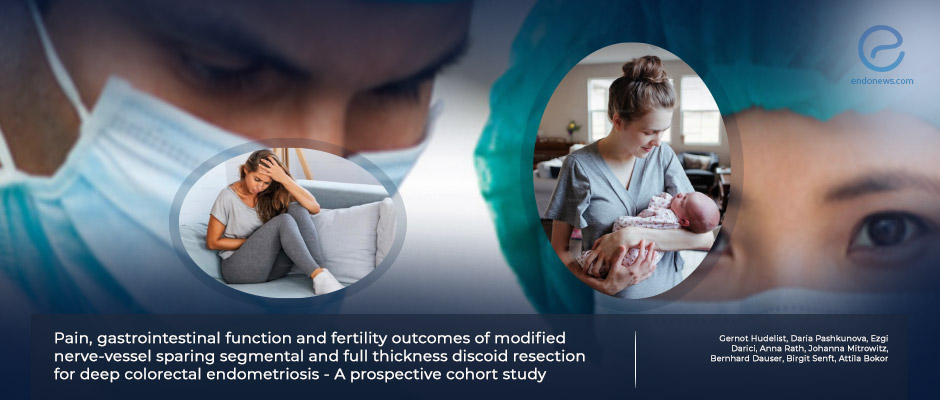 No differences in postsurgical bowel functions were determined when comparing the full-thickness discoid resection to nerve-vessel segmental resection.
Key Points
Importance:
There is still no consensus on the optimal surgical techniques for colorectal deep endometriosis and their effects on gastrointestinal function.
Highlights:
Both nerve-vessel-sparing segmental resection and full-thickness discoid resection techniques of colorectal surgery can improve gastrointestinal functions postoperatively in patients with symptomatic colorectal endometriosis.
What's done here:
This prospective comparative cohort study aimed to compare the postsurgical outcomes of symptomatic colorectal deep endometriosis patients who underwent two different surgical approaches.
The complication rates of 162 consecutive patients (2/3 underwent nerve-vessel sparing segmental resection, and 1/3 full-thickness discoid resection) were evaluated.
The gastrointestinal function measured by lower anterior resection syndrome, gastrointestinal-related quality of life scores, pain scale, postsurgical complications, and fertility changes were compared pre- and post-surgery.
Key Results:
The data of 121 women who remained after the exclusion criteria was presented.
Before the surgery, lower anterior resection syndrome-like symptoms and low gastrointestinal-related quality of life scores were observed in both cohorts.
Improvement in gastrointestinal functions was detected after the surgery, regardless of the type of operation.
Overall, postsurgical pregnancy and live birth rates were hilarious, suggesting a beneficial effect of surgery on natural and artificial conception rates.
Lay Summary
Deep colorectal endometriosis affects one-fifth of women with endometriosis, which is commonly associated with more pelvic pain and severe gastrointestinal symptoms. Three surgical approaches for deep colorectal endometriosis are segmental colorectal resection, full-thickness discoid resection, and shaving operation. Choosing the surgical approach depends on various factors, which can differ from surgeon to surgeon. The generally preferred method is a segmental resection for multifocal and large nodules exceeding at least 3-4 cm., and a full-thickness discoid resection when small nodules less than 3 cm do not deeply infiltrate the muscular layer. Women with low-segment deep colorectal endometriosis usually have the risk of leakage and rectovaginal fistula postoperatively. Considering the anastomotic height of the colon, it is debatable which surgical technique will be successful.
Dr. Hudelist and colleagues from the Department of Gynecology at the Center of Endometriosis of Hospital St.John of God, Vienna, aimed to compare their modified nerve-vessel-sparing resection to the full-thickness discoid resection technique regarding postoperative outcomes. They planned a prospective comparative cohort study and long-term follow-up in their clinic to evaluate postoperative complications, symptom impairment, and fertility outcomes.
The authors observed a relevant decrease in lower anterior resection syndrome scores and an increase in gastrointestinal-related quality of life scores after a median of forthy months of postoperative follow-up, indicating improved symptoms in both surgical groups. All other parameters like improvement of pain, quality of life, and pregnancy outcomes were statistically the same in both groups.
To support their results, the authors advocated future multicenter prospective studies with a larger number of patients.
This single-center study was recently published in Acta Obstetricia et Gynecologica Scandinavica.
---
---
full thickness discoid resection
nerve-vessel sparing surgery
lower anterior resection syndrome
quality of life index
pelvic pain
colorectal endometriosis
deep endometriosis.
DISCLAIMER
EndoNews highlights the latest peer-reviewed scientific research and medical literature that focuses on endometriosis. We are unbiased in our summaries of recently-published endometriosis research. EndoNews does not provide medical advice or opinions on the best form of treatment. We highly stress the importance of not using EndoNews as a substitute for seeking an experienced physician.