Cloverleaf Sign: A new MRI sign for diagnosing DIE
By:
Selma Oransay
- Nov 20, 2019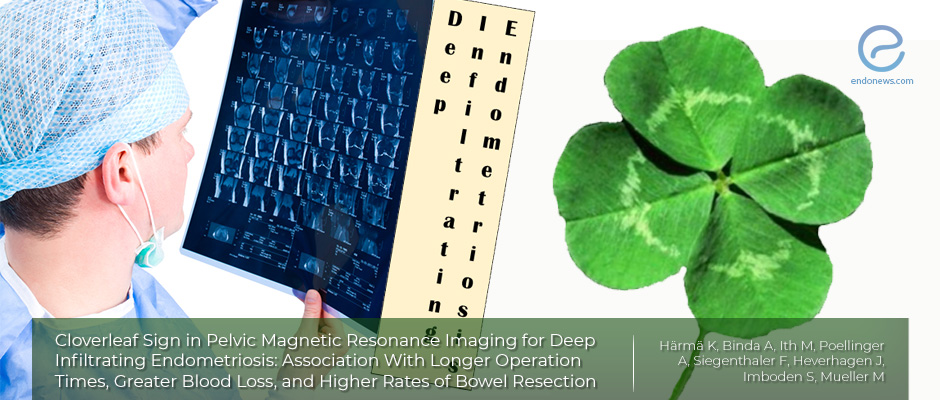 Magnetic resonance imaging provides an accurate imaging way in the staging of DIE
Key Points
Importance:
The image seen like a cloverleaf during the MRI evaluation is due to constrictive adhesions in the center of deep infiltrating endometriosis, formed by at least 3 different affected organs.
Highlights:
To identification of a cloverleaf sign in a patient with deep infiltrating endometriosis indicates a significant influence on the operation time, blood loss and bowel resection rate.
What's done here:
This retrospective study assesses the concordance between preoperatively diagnosed cloverleaf sign due to deep infiltrating endometriosis and surgical findings.
Key results:
This retrospective study consists of 113 patients, the prevalence of deep infiltrating endometriosis is 79.6% and only in 34 patients cloverleaf sign revealed on MRI.
The median operation time in the cloverleaf group was significantly higher when compared to the non-cloverleaf group.
Intraoperative blood loss of the cloverleaf group was significantly higher, bowel resections were most frequent.
Limitations:
Evaluating endometriosis in MRI diagnosis always necessitates experienced and skilled radiologists.
The authors did not determine the vaginal or rectal filling with jelly water caused the cloverleaf sign per se.
Lay Summary
Magnetic resonance imaging provides accurate information for the staging of deeply infiltrating endometriosis, especially when the patient is virgin, obese or has limited transvaginal examinations due to pelvic pain.
In this recently published study in Investive Radiology, Harma et al. from the University of Bern, Switzerland aimed to evaluate the role of an MRI "cloverleaf" sign as a tool to improve the diagnosis of deep infiltrating endometriosis and to compare related operative findings. Their retrospective study group consists of 103 patients. Two radiologists blinded to clinical data performed MRI inspections to suspicious deep infiltrating endometriosis patients and the laparoscopic operations.
Numerous anatomical compartments like the rectum, sigmoid colon, posterior vaginal fornix, uterosacral ligaments, urinary tract and extragenital sites of these patients were evaluated by the aid of gel diluted water filled in vagina, rectum, and bladder. The prevalence of deep infiltrating endometriosis in their study group was 79.6%, and 55.9% of them had advanced-stage endometriosis.
The authors found the mean laparoscopic operation time of the cloverleaf group was significantly higher and usually necessitated additional bowel resection. The cloverleaf signed group consisted of 34 deep infiltrating endometriosis patients and 14 of them underwent bowel resection.
They also pointed out that the blood loss of this group is significantly higher, but this was not related to bowel resection. In one patient, despite the cloverleaf sign in MRI, organ conglomerate was not found during laparoscopy.
As a result, this study warns the clinicians that if a cloverleaf sign reported by MRI in a patient with deep infiltrating endometriosis, planned surgery may be much complicated with a significantly longer time and higher intraoperative blood loss.
---
---
magnetic resonance imaging
cloverleaf sign
protocols
bowel resection
laparoscopic surgery
deep infiltrated endometriosis.
DISCLAIMER
Endonews is designed to strictly highlight the most recently published scientific research that focuses on endometriosis. It is not designed to provide medical advice or an opinion on the best form of treatment. We highly stress the importance of not using this site as a substitute for seeking an experienced physician, which is highly recommended if you have any questions or concerns regarding your endometriosis needs. We believe in the consciousness of our reader to discriminate that research is different than "standard of care," and trust that they can keep in mind that here at Endonews, we summarize the newest peer-reviewed scientific medical literature, without bias.
<< Previous Article

Next Article >>