Can early-life exposures affect endometriosis development later in life?
Apr 15, 2019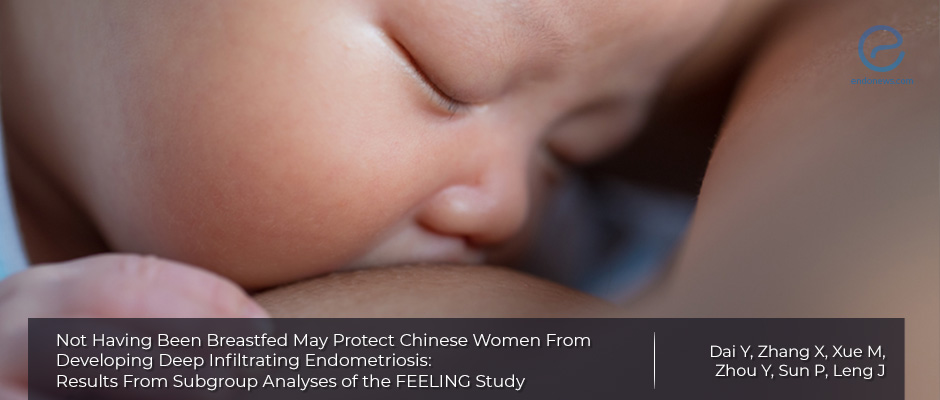 Chinese women who were not breastfed as infants are protected against developing deep infiltrating endometriosis in adulthood
Key Points
Highlights:
Not having been breastfed was identified as a protective factor against deep infiltrating endometriosis (DIE) in Chinese participants of a multi-country study
Importance:
Identification of early-life exposures associated with endometriosis and DIE may offer some insights into the underlying mechanisms of endometriosis
This is the first study suggesting that not having been breastfed may protect against deep infiltrating endometriosis in Chinese women
What's done here?
Subgroup analysis of a large multi-country case-control study that investigated the clinical, lifestyle and environmental factors associated with endometriosis in China, Russia, and France
546 participants from China were studied to understand the factors associated with different phenotypes of endometriosis
Key results:
Many factors including hormonal treatment, menstrual cycle regularity, gastrointestinal symptoms, living in a city or busy area, infertility, and not having been breastfed, were identified as being associated with endometriosis and DIE
Not having been breastfed was identified as a protective factor only for DIE
Limitations of the study:
The sample size of 546 is small, additional data from a larger pool is needed to confirm the findings
Possible bias against the enrollment of women in rural areas as they tend to be disinterested in medical testing to diagnose the disease or diagnosis efficiency is low in rural areas.
Lay Summary
Endometriosis is a complex disease with possible multifactor contributors. So far, inflammatory, immunogenic, genetic, and environmental factors have all been associated with endometriosis. In addition, it is possible that different types of endometriosis lesions – peritoneal, ovarian, and deep infiltrating – may all have different origins and pathogenic mechanisms.
A recent multi-country study called FEELING (Factors associated with the development of Endometrioma and dEep infiltratING endometriosis) investigated the clinical, lifestyle, and environmental factors associated with all three subtypes of endometriosis in over 1000 patients from 3 countries (China, Russia, and France). The FEELING study identified several biological factors including previous use of hormonal treatment or surgery for endometriosis, regularity of menstrual cycles as well as environmental factors such as living or working in a city or by a busy area. Substantial differences among regions were noted regarding the diagnosis, symptomatology, and management of endometriosis.
The present study by Yi Dai and colleagues aimed to further analyze the data obtained from the Chinese women enrolled in the original FEELING study to identify factors associated with endometriosis, particularly the early-life factors, in Chinese women. This sub-study of 546 Chinese women revealed several factors associated with ovarian and deep infiltrating endometriosis. Among these were infertility, previous surgical or hormonal treatments of endometriosis, gastrointestinal symptoms during menstruation, vaginal douching, living in a city or busy area, and whether or not patients were breastfed as infants.
Not having been breastfed was identified as a protective factor against endometriosis. Further analysis showed that having been breastfed or not only affected the development of deep infiltrating endometriosis, not the other two forms of the disease. Also important to note is that being breastfed or not was not associated with any form of endometriosis in the original FEELING study, indicating the possibility of regional differences in the contributing factors of endometriosis development.
This study certainly is an outlier in the sea of studies pointing to the benefits of breastmilk, nonetheless, further observational studies are warranted to confirm or oppose this interesting finding.
---
---
breastfed
breastfeeding
DIE
deep infiltrating endometriosis
early-life factors
environmental factors
DISCLAIMER
EndoNews highlights the latest peer-reviewed scientific research and medical literature that focuses on endometriosis. We are unbiased in our summaries of recently-published endometriosis research. EndoNews does not provide medical advice or opinions on the best form of treatment. We highly stress the importance of not using EndoNews as a substitute for seeking an experienced physician.
<< Previous Article

Next Article >>