Building an ultrasonographic database for superficial endometriosis.
By:
Selma Oransay
- Feb 28, 2019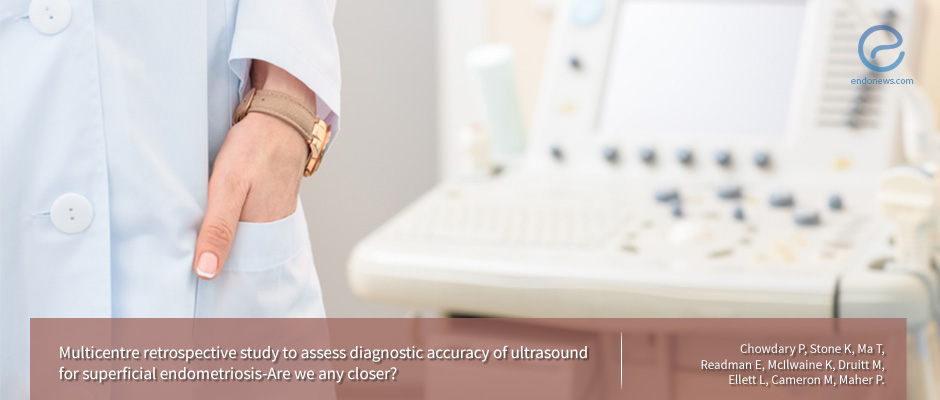 Thickened uterosacral ligament and pericolic fat are reliable ultrasonographic markers of inflammation in recognition of superficial endometriosis.
Key Points
Highlights:
The ultrasonographic assessment of superficial endometriosis is possible by endometriosis specialized experienced sonologist.
Importance:
To diagnose mild to moderate endometriosis before going to diagnostic laparoscopy in case of pelvic pain is important.
What's done here:
Patients with pelvic pain and suspicion of endometriosis were analyzed for the correlation of their ultrasonographic and laparoscopic findings to evaluate whether an accurate ultrasonographic diagnosis for superficial endometriosis could be detected.
Key Results:
Laparoscopic findings were consistent with the ultrasound findings in 75% (42/53) of the patients.

Mild-moderate endometriosis was associated with thickened pericolic fat.

Uterosacral ligament thickening was predictive for the presence of superficial endometriosis.

No association was found between age and operation findings or symptoms.
Lay Summary
Chowdary et al. from University of Auckland, Australia, recently published a retrospective, small group study in Australian New Zeland Journal of Obstetrics and Gynecology, to demonstrate ultrasonographic findings of mild endometriosis patients with pelvic pain are associated with their laparoscopic diagnosis.
The study was performed on fifty-three patients with pelvic pain and diagnosed as superficial endometriosis after the ultrasonography performed by a single expert sonologist between 2012 and 2015. The laparoscopic findings of seventy-nine percent of the patients were consistent when compared to their ultrasonographic findings. At the time of the laparoscopy, the "uterosacral thickening more than 3mm" (p<0.05), and "thickened pericolic fat" (p<0.05) were the most associated signs in a subgroup of these patients to diagnose as "superficial endometriosis". Besides, focal tenderness, ovarian immobility, filmy adhesions were also taken into account for this specific diagnosis by the sonologist.
Authors suggested that uterosacral ligament thickness less than 3 mm is not representative of deep infiltration of the disease, on the contrary, the definition of DIE indicates>5mm depth of the pathology.
Bowel preparation is not required in the assessment of markers for superficial endometriosis.
The most valuable result of this study is the positive uterosacral ligament thickness (<3mm), as well as tenderness and immobility during ultrasonography, which was matching with the laparoscopic findings.
Using the above ultrasonographic signs of superficial endometriosis, the authors believe that early diagnosis of superficial endometriosis will be possible and the population will benefit.
---
---
ultrasonography
laparoscopy
pelvic pain
uterosacral thickness
thickened pericolic fat
focal tenderness
ovarian immobility
filmy adhesion
superficial endometriosis
DISCLAIMER
EndoNews highlights the latest peer-reviewed scientific research and medical literature that focuses on endometriosis. We are unbiased in our summaries of recently-published endometriosis research. EndoNews does not provide medical advice or opinions on the best form of treatment. We highly stress the importance of not using EndoNews as a substitute for seeking an experienced physician.
<< Previous Article

Next Article >>