Behavioral Symptoms in an Animal Model of Endometriosis
By:
Yu Yu
- May 14, 2019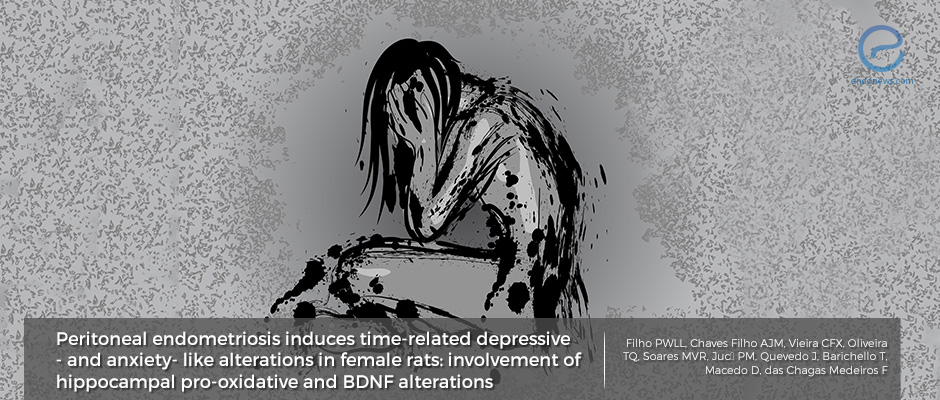 Is there a relationship between endometriosis and depression
Key Points
Highlight:
This research article tries to find out the causes of endometriosis-associated depression and anxiety in an animal model.
Importance:
Endometriosis is associated with features of clinical depression. The hippocampal oxidative state and neurotrophic changes may be responsible for this.
What's done here:
Endometriosis in rats was induced by peritoneal auto-transplantation of uterine tissues.
Characterization of behavioral alterations in the rat endometriosis model was performed.
The study measured the corticosterone stress reactivity and oxidative stress markers (glutathione; GSH, lipid peroxidation, the activity of superoxide dismutase; SOD and myeloperoxidase; MPO and brain-derived-neurotrophic factor; BDNF) levels in the hippocampus.
Data:
The rat endometriosis model showed:
Anxiety-like behavior from 14th to 21st days post-endometriosis.
Despair-like behavior from the 14th-day post-endometriosis
Anhedonia and apathetic-like behaviors from 21 days post-endometriosis, which was accompanied by an increased corticosterone stress response.
Increased pain sensitivity from the 7th-day post-endometriosis, and endometrioma weight.
A number of pro-oxidative alterations: decreased GSH, increased SOD activity, lipid peroxidation
Limitation:
The study did not perform a longer evaluation
The role of inflammatory-immune response that led to the behavioral changes was not examined.
Lay Summary
Recent studies suggest that there is a relationship between endometriosis and some behavioral symptoms. Prolonged pelvic pain and the other endometriosis symptoms can often affect psychological and social functioning, resulting in issues with social relationships, sexuality, and even mental health. A previous systematic review showed that depression and anxiety are commonly associated with endometriosis.
The biological mechanisms underlying the relationship between endometriosis and psychiatric symptoms; however, remains understudied. Filho et al. from Neuropsychopharmacology Laboratory, Department of Physiology and Pharmacology, Universidade Federal do Ceará, Brazil, investigated the possible causes of this association using a rat model with endometriosis induction. The research findings were recently published in "Metabolic Brain Disease" journal. The study main hypothesis is that endometriosis induction in female rats model could produce some behavioral symptoms seen in women with endometriosis.
The study performed multiple behavioral evaluations in female rats which were induced with peritoneal endometriosis by autologous transplantation of endometrial tissue. Behavioral assessments include despair-like, anhedonia, motivational, anxiety and pain-related symptoms. Moreover, the study investigated the effects of endometriosis in corticosterone stress response, a number of oxidative stress markers and brain-derived neurotrophic factor (BDNF) levels in the rats' hippocampus.
A total of 144 rats were randomly assigned to be the endometriosis (72 rats) or the control group (72 rats). Behavioral tests were performed in the 7th, 14th and 21st day after transplantation surgery.
The rats with endometriosis showed anxiety-like, despair-like behavior and pain sensitization alterations at the 14th day of evaluation. At the 21st day, these rats also displayed a full spectrum of depression-like behavior, with anhedonic- and apathetic-like behaviors. Physiologically, endometriosis increased corticosterone stress reactivity and induced hippocampal pro-oxidative alterations. BDNF expression in the hippocampus was reduced 21 days post endometriosis induction.
In other words, this study claims that endometriosis is associated with the presence of several behavioral features in rat models that resemble human depression. The behavioral changes may be related to endometriosis induced hyper-reactivity of corticosterone response, and increased oxidative stress or reduction in hippocampal BDNF levels.
"We demonstrated that endometriosis causes a hyper-reactivity of corticosterone response, progressive increases in oxidative stress markers in the hippocampus and a marked reduction in hippocampal factor levels that are associated with depressive disorders. Therefore, our data may bring new evidence to better clarify the pathophysiological basis underlying the development of some endometriosis-related symptoms, also opens new perspectives for the use of animal models of this gynecological disease to study new drug candidates to treat both the disease and its neuropsychiatric comorbidities", concluded the authors.
---
---
pain
depression
behavioral
anxiety
despair
anhedonia
pro-oxidative
GSH
SOD
BDNF
DISCLAIMER
EndoNews highlights the latest peer-reviewed scientific research and medical literature that focuses on endometriosis. We are unbiased in our summaries of recently-published endometriosis research. EndoNews does not provide medical advice or opinions on the best form of treatment. We highly stress the importance of not using EndoNews as a substitute for seeking an experienced physician.
<< Previous Article