β-catenin signaling, a new therapeutic target in endometriosis
Feb 6, 2020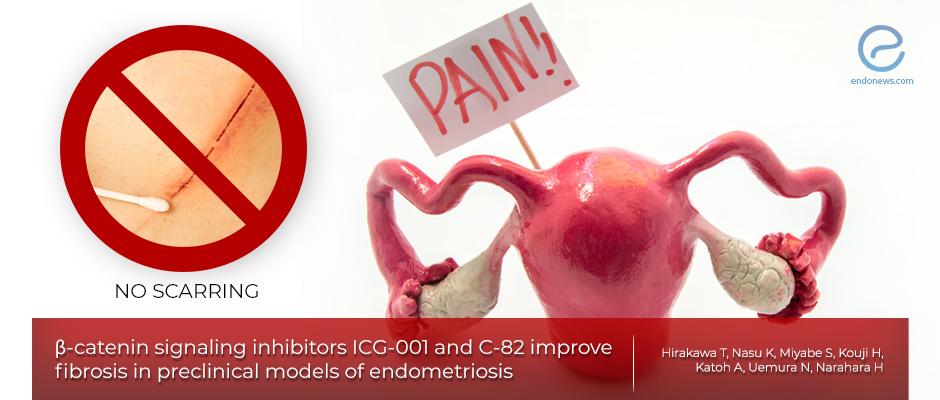 Inhibiting scarring as a potential therapeutic avenue for treating endometriosis?
Key Points
Highlight:
β-catenin signalling has an important role in the pathophysiology of endometriosis and thus targeting it represents a new method to inhibit fibrosis in endometriosis.
Importance:
Fibrosis (scarring) is one of the characteristics of endometriosis that has not been fully studied.
This article studied anti-fibrogenic agents that target β-catenin signalling.
What's done here:
This study evaluated two β-catenin signalling inhibitors, ICG-001 and C-82 to inhibit the progression of endometriosis.
Ovarian endometriosis was studied from ovarian endometriotic cysts (n=11) and compared to normal endometrium tissues from patients without endometriosis (n=6).
Expression of β-catenin was examined using immunohistochemical staining.
Endometriotic cyst stromal cells (ECSC) and normal endometrial stromal cells (NESC) were isolated from the tissues to study the effects of ICG001 and C-82.
The efficacy of ICG001 was tested in a mouse model that recapitulates endometriosis.
Data:
β-catenin is upregulated in endometriosis.
The β-catenin signalling inhibitors inhibited cell proliferation, fibrogenesis, and cell migration while inducing apoptosis in ECSC.
In the mouse model, ICG-001 inhibited endometriotic lesions growth.
Limitation:
Drug-related toxicity has not been comprehensively studied in major organs, although animal body weights were unaffected.
The pharmacokinetics of inhibitor were not evaluated, therefore it is difficult to establish correct drug dose.
The mouse model carries an intrinsic bias that may not fully reflect human endometriosis.
Lay Summary
Endometriosis is characterized by cell proliferation, resistance to cell death and fibrotic scarring. It is treated by surgical removal of the peritoneal lesions and ovarian cysts or using hormonal agents. However, the success of the current treatment is limited by high recurrence. Thus, there is a need for more effective therapy.
This article published in "Scientific Reports" by Harakawa et al. from the Department of Obstetrics and Gynecology, Faculty of Medicine, Oita University, Oita, Japan investigated new inhibitors, ICG-001 and C-82, which target β-catenin signaling in preclinical models of endometriosis. The authors hypothesized that targeting fibrosis can be an effective treatment for endometriosis.
This rationale is based on previous studies that have reported the association between fibrosis and endometriosis progression. Fibrosis and endometriosis progression was correlated with unregulated activation of the Wnt/β-catenin signaling pathway. This molecular pathway in the cells was more recently shown to be associated with other fibrotic diseases occurring in the lung, skin, kidney, and liver. β-catenin, as a molecule, has been extensively studied previously especially in the context of cancer. It is widely expressed in many tissues and is a protein with important functions in cell-cell adhesion and gene transcription regulation. Therefore, the current study evaluated the activity of ICG-001 and C-82 using endometriotic cyst stromal cells (ECSC) derived from ovarian endometriomas and normal endometrial stromal cells (NESC) derived from the uterus of non-endometriosis women. The efficacy of ICG-001 was also evaluated in a mouse model of endometriosis.
The data showed that β-catenin protein expression is significantly upregulated in ECSC. Both inhibitors, ICG-001 and C-82, inhibited cell growth, cell migration, and fibrosis in ECSC. In animal studies, treatment with ICG-001 (10, 50, and 100 mg/kg) was tolerable, and effectively inhibited the disease progression and intra-abdomen fibrosis. However, the efficacy did not appear to be dose-dependent. Therefore, further studies on the pharmacokinetics of ICG-001 will be necessary to confirm its efficacy and finding the optimum dosing regimen. This study is also limited as there is no comprehensive examination on whether ICG-001 caused any organ related toxicities.
In conclusion, β-catenin signaling inhibitors, ICG-001 and C-82, are promising new agents that may be useful for the treatment of endometriosis. However, future evaluations in more preclinical models, as well as clinical trials are needed in order to establish the efficacy and safety profile of these new drugs.
---
---
treatment
management
DISCLAIMER
EndoNews highlights the latest peer-reviewed scientific research and medical literature that focuses on endometriosis. We are unbiased in our summaries of recently-published endometriosis research. EndoNews does not provide medical advice or opinions on the best form of treatment. We highly stress the importance of not using EndoNews as a substitute for seeking an experienced physician.
<< Previous Article

Next Article >>