Atypical Sites of Deeply Infiltrative Endometriosis
Feb 1, 2018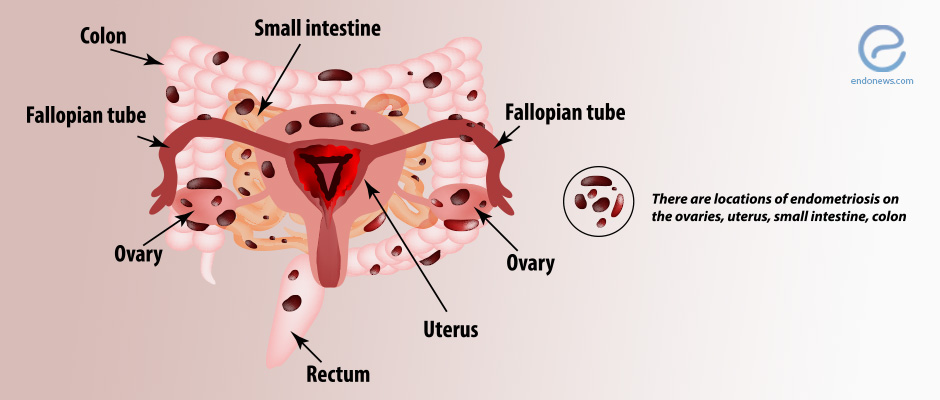 Endometriosis can spread to a variety of atypical locations, including the bladder, intestines, and even the diaphragm.
Key Points
Highlight:
Extrapelvic endometriosis is quite rare (occurring in 8.9% of endometriosis cases). This review article highlights some of the most common atypical sites for endometriosis.
Importance:
Even though extrapelvic endometriosis is rare, it can be challenging to diagnose because of the high variability of locations where it can happen. As a result, the associated symptoms and clinical manifestation can vary and are unpredictable.
What's done here:
The authors review atypical locations for endometriosis and discuss the appropriate imaging methods to investigate extrapelvic endometriosis. Cases described include endometriosis of the abdominal wall, umbilicus, inguinal area and round ligaments, small bowel, appendix, thoracic cavity, and pelvic nerves.
Data:
Gastrointestinal endometriosis is the most common extragenital location.
The diaphragm is the most frequent extrapelvic site of endometriosis.
Specialist imaging is fundamental to the evaluation of atypical sites endometriosis.
Radiography, ultrasonography, thin-section computed tomography, or magnetic resonance imaging can be used.
A comprehensive mapping of atypical sites is necessary to avoid residual disease.
Surgical excision is the only therapeutic measure.
Lay Summary
Endometriosis is the presence of endometrial tissue outside the uterine cavity and is characterizes by fibrosis and inflammatory reaction. The pelvic cavity is the most common location for endometriotic lesions, which involves the retro-cervical space, ovaries, vagina, rectosigmoid colon, bladder dome, and round ligaments. However, the atypical location of endometriosis can occur, although it is rare and often difficult to diagnose.
In this review article, Chamié et al. discuss atypical locations for endometriosis and the appropriate imaging methods to investigate them. Most common extragenital locations of endometriosis are the gastrointestinal tract (32.3%); the urinary tract (5.9%); and other sites (61.8%) including the lung, umbilicus, liver, gallbladder, pancreas, pelvic nerves, inguinal area, breasts, and extremities as well as abdominal scars.
The bowel endometriosis is one of the most aggressive and occurs in up to 37% of women with deeply infiltrative endometriosis. Within the gastrointestinal tract, the rectosigmoid colon is the most common location, with other possible sites in the small bowel, especially the terminal ileum. Appendiceal endometriosis patients often have severe endometriosis with cyclical bowel symptoms accompanied by chronic right lower quadrant pain.
Although uncommon, thoracic endometriosis syndrome is the most frequent extrapelvic endometriosis. Such pleural endometriosis has symptoms such as catamenial pneumothorax, pneumomediastinum, hemothorax, and chest pain. Pulmonary endometriosis can cause catamenial hemoptysis and pulmonary nodules.
Surgical excision of ectopic endometriotic tissue is a definitive treatment, and the success depends on the complete removal. Hence, imaging mapping is crucial for a comprehensive clinical evaluation and guide the surgery. Transvaginal ultrasonography and magnetic resonance imaging are used to evaluate the pelvic cavity, abdominal wall, small bowel, appendix, and inguinal area. In addition, conventional radiography, thin-section computed tomography, and thoracic MR imaging can assess thoracic endometriosis.
---
---
surgery
imaging
extrapelvic endometriosis
DISCLAIMER
EndoNews highlights the latest peer-reviewed scientific research and medical literature that focuses on endometriosis. We are unbiased in our summaries of recently-published endometriosis research. EndoNews does not provide medical advice or opinions on the best form of treatment. We highly stress the importance of not using EndoNews as a substitute for seeking an experienced physician.