Atherosclerosis is augmented in laboratory mice by experimental endometriosis
By:
Nasuhi Engin Aydin
- Jun 2, 2022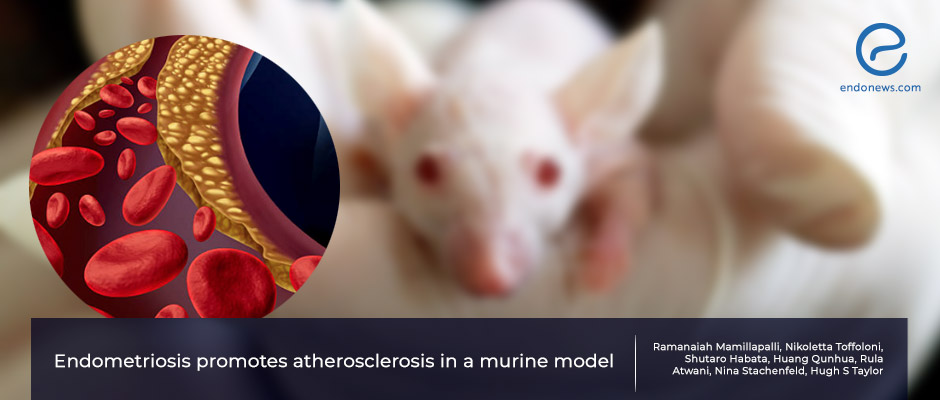 Animal model of human disease: endometriosis enhanced atherosclerosis
Key Points
Highlights
Even though endometriosis is a gynecological disease, the basic pathogenetic inflammatory process it evolves may result in a variety of consequences including arterial vessel involvement.
Importance:
If there is a casual relationship between endometriosis and atherosclerosis (i.e."hardening of arteries"), the adverse outcome can be reduced by preventive measures.
What's done here:
Endometriosis was induced in a well-known animal model of laboratory mice in studying atherosclerosis.
At 25 weeks following endometriosis induction, the animals were sacrificed and the whole aortas were examined for atherosclerosis.
Key results:
Even though induction of endometriosis did not affect the lipid profile, inflammatory cytokines that are known to promote atherosclerosis increased in the experimental group.
Atherosclerotic lesions were present in the whole aorta sections of the endometriosis group, aortic walls were thickened, and their lumina were reduced by 50%.
The difference between the experimental and the control group was statistically significant.
Limitations of the study:
Though this animal model of atherosclerosis is well accepted and accurately mimics human disease; it may not account for all aspects of endometriosis-related arterial lesions.
The variation in size and evolution of endometriotic foci prevents assessing the degree of inflammation induced in each experimental animal.
Lay Summary
Dr. Taylor group from Yale School of Medicine, New Haven, CT, USA has published their experimental study in the "American Journal of Obstetrics & Gynecology" on atherosclerosis following endometriosis induction in laboratory mice.
The basic inflammation process in endometriosis patients seems to have systemic consequences and epidemiologic studies point to an increased cardiovascular health risk in women with this ailment. If a casual relationship between endometriosis and atherosclerosis can be shown, this potential complication may be prevented.
Under normal conditions, laboratory mice do not develop atherosclerosis; but, the apolipoprotein E (ApoE)-null mouse strain is a well-established animal model for this purpose. In this experimental sudy endometriosis was induced in ApoE-null female mice and the formation of endometriotic lesions were confirmed after 25 weeks. The whole aortas were isolated, the lipid deposits or plaque formation was quantified at the 25th week. Biochemical assays were also carried out to determine the serum lipids and inflammatory-related cytokines. ApoE-null mice with endometriosis revealed increased aortic atherosclerosis compared to controls, along with a significant aortic luminal narrowing and an increase in aortic wall thickness. The serum levels of inflammatory cytokines such as interleukin 1 alpha, interleukin 6, interferon gamma, and vascular endothelial growth factor were also significantly increased in the endometriosis mice.
This study has demonstrated that mice with endometriosis yield severe atherosclerosis most likely due to endometriosis-induced inflammation rather than the changes in the lipoprotein profile. Even though this animal model of human disease is well accepted and accurately mimics human atherosclerosis; it may not be able to account all aspects of endometriosis related arterial lesions. Another limitation was the variation in size and evolution of endometriotic foci that prevented assessing the degree of inflammation.
However, from a clinical standpoint, specifically targeting inflammatory cytokines may help reducing the long-term risk of atherosclerosis in women with endometriosis.
---
---
laboratory mice
animal model
experimental atherosclerosis
experimental endometriosis
DISCLAIMER
EndoNews highlights the latest peer-reviewed scientific research and medical literature that focuses on endometriosis. We are unbiased in our summaries of recently-published endometriosis research. EndoNews does not provide medical advice or opinions on the best form of treatment. We highly stress the importance of not using EndoNews as a substitute for seeking an experienced physician.
<< Previous Article

Next Article >>