A position statement of diagnosing and treating endometriosis for gynecologists.
By:
Selma Oransay
- Jul 17, 2019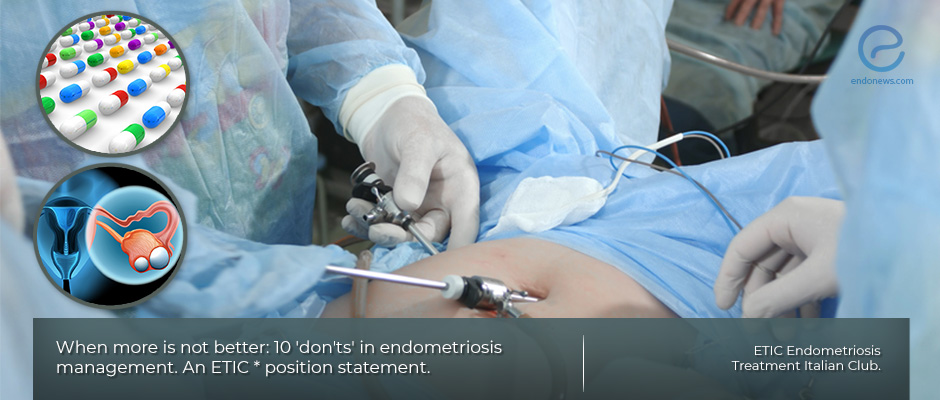 Endometriosis Treatment Italian Group proposed 10 important "DON'Ts" about the management of endometriosis.
Key Points
Highlights:
To remove uncomplicated lesions do not help to increase pregnancy rates.
Repeated surgery for endometriomas does not help to lower AMH (Anti-Mullerian Hormone) levels. instead, clinicians should give higher and longer gonadotropin regimes to decrease peripheral estrogen and to obtain more follicles after surgery of these patients.
The endometriotic cyst recurrence rate of 10% has been reported per year after surgery.
Importance:
Endometriosis should not be treated just because it's there. (Thomas 1993)
What's done here:
Endometriosis Treatment Italian Group, which is composed of 16 university departments and training hospitals with expert national clinicians for endometriosis all around Italy, performed three separate assemblies from October 2016 meeting in Verona and ending 1 April 2017 meeting in Catanzaro, to define high-quality diagnostic and therapeutic standards for endometriosis.
Key results:
After a thorough search in literature for ten suggestions, Endometriosis Treatment Italian Group assembled and rated the quality of the evidence.
Only four out of ten suggestions have a high quality of evidence to be strongly suggested, are:

There is no need to cure superficial endometriosis in infertile women who have no pelvic pain symptoms.
Don't remove endometriomas less than 4mm diameter in infertile couples scheduled for IVF program.
After endometrioma surgery, if your patient doesn't plan conception in a short period of time, don't neglect to give her estrogen-progestin or progestin long-term treatment.
Don't prescribe drugs that can not be used for prolonged periods of time unless estrogen-progestin regimes found ineffective for your patient.
Lay Summary
Endometriosis Treatment Italian Group recently declared 10 "valuable" conducts to evaluate endometriotic patients and published them in Hum. Reprod. Open.
This society consists of 16 university departments and training center with expert clinicians on endometriosis from Italy. After arising the idea of defining medical interventions and achieving gold standards of diagnosing and treating endometriosis that can be adapted to various disease forms they performed first meeting in Oct.2016. In this meeting, the committee discussed and collectively selected the final ten remarks to further research.
10 sub-groups were made to focus on each of one specific issue and asked them comprehensive literature research related to their topic. All these sub-groups consulted to retrieve further information with major scientific societies like ACOG, and internationally recognized professional associations on their selected topics. Following all these procedures sub-group experts asked for preparing a short preliminary report including the quality of the evidence (QOE) using GRADE guidelines and strength of suggestions.
After the final meeting which held on November 2017 ETIC members processed a consensus and published it as 10 Dont's of endometriosis diagnosis and treatment that can be found below.
Key Suggestions:
. If infertile women have no pelvic pain symptoms, DON'T USE laparoscopy to detect and treat their superficial peritoneal endometriosis.(QoE = high, strong suggestion)
. At any stage of endometriosis of infertile women, DON'T RECOMMEND controlled ovarian stimulation and IUI. (QoE = moderate, weak suggestion)
. As a sole objective of improving the likelihood of conception in infertile patients scheduled for IVF, DON'T REMOVE ovarian endometriomas smaller than 4 mm diameters. (QoE= high, strong suggestion)
. If patients are asymptomatic DO NOT REMOVE uncomplicated deep endometriotic lesions. If medical treatment is effective and well-tolerated in symptomatic women DON'T REMOVE them as well for seeking conception.(QoE = moderate, weak suggestion)
. In which patients who have known or suspected non-subocclusive colorectal endometriosis or whose symptoms are responding to medical treatment DO NOT routinely ask for second-level diagnostic laparoscopy. (QoE = low, weak suggestion)
. If your patient is using successfully medical treatments for uncomplicated endometriosis and has no suspicious ovarian cysts, DO NOT repeat follow-up serum Ca 125 levels (or other currently available markers.) (QoE = low, weak suggestion)
.Women who aren't seeking immediate conception after endometrioma surgery DON'T NEGLECTED post-operative long term treatment with estrogen-progestins or progestins. (QoE = high, strong suggestion)
. For moderate to severe dysmenorrheic and clinically early endometriosis suspected adolescents, DON'T PERFORM laparoscopy prior to attempting to relieve symptoms with estrogen-progestin or progestin treatments. (QoE = low, weak suggestion)
.Unless estrogen-progestins or progestins found ineffective, not tolerated or contraindicated, DON'T PRESCRİBE drugs that cannot be used for prolonged periods
of time because of safety and cost issues. (QoE = high, strong suggestion)
.If you are outside research settings DO NOT USE robotic-assisted laparoscopic surgery for endometriosis. (QoE = moderate, weak suggestion)
---
---
endometriosis management
ETIC Endometriosis Treatment Italian Group
low-value interventions
quality of evidence
treatment burden
RAS (robotic-assisted surgery)
laparoscopy
DISCLAIMER
EndoNews highlights the latest peer-reviewed scientific research and medical literature that focuses on endometriosis. We are unbiased in our summaries of recently-published endometriosis research. EndoNews does not provide medical advice or opinions on the best form of treatment. We highly stress the importance of not using EndoNews as a substitute for seeking an experienced physician.
<< Previous Article

Next Article >>