A Doctor's Guide to Making Endometriosis Less Scary
By:
Kasthuri Nair
- Jul 16, 2018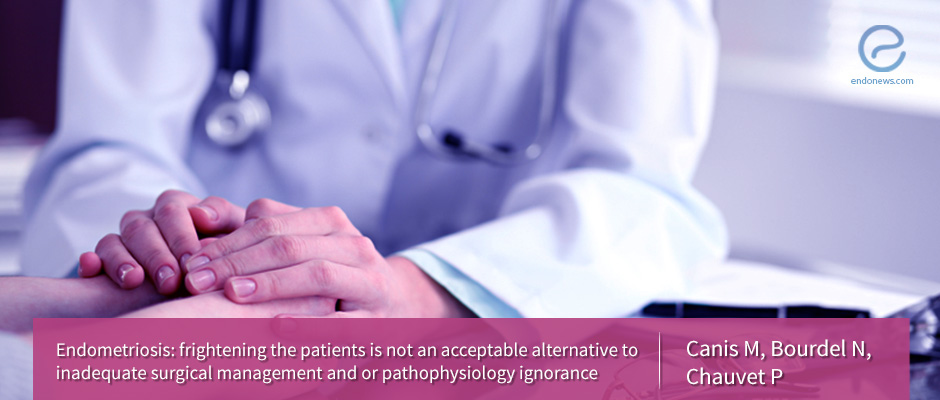 Different parts in the treatment of endometriosis that may lead to undue stress and anxiety for the patient.
Key Points
Highlights:
This publication states that a lack of information stemming from surgical management or understanding of endometriosis should not be an excuse for a health care provider to unnecessarily scare or evoke extra anxiety in their patient.
Importance:
Endometriosis is a stressful condition and every step must be taken to alleviate all possible sources of unnecessary stress and burden upon the patient.
What's done here?
This publication is a guideline for healthcare providers that draws upon many studies and professional opinions.
Key points:
With regards to surgical management of endometriosis, the publication cautions against:

Extensive discussions of possible complications that can be neither confirmed nor denied by the radiologists.
Discussing worst-case scenarios with the patient in order to safeguard against postoperative litigations.
Discussing high rates of recurrence with patients as a way to compensate for improper surgical resection.

With regards to the pathophysiology of the disease, the publication states that:

Health care providers should not tell patients that no one truly understands the pathophysiology of the disease, so the prescribed drugs may be useless because they may not actually target the unknown causes. This creates unnecessary anxiety in the patient.

The authors state that endometriosis care should focus on the painful experiences rather than unnecessarily upsetting the patients about recurrences of the disease.
Early surgery for the disease may aid in decreasing a patient's worry about future complications.
Lay Summary
Canis, Bourdel, and Chauvet, doctors from CHU Estaing, recently published an article titled "Endometriosis: frightening the patients is not an acceptable alternative to inadequate surgical management and or pathophysiology ignorance" in Fertility and Sterility. Their paper delineated proper health practices that will alleviate or avoid unnecessary stress on patients suffering from endometriosis.
The authors discuss surgery as a possible option for endometriosis care. They caution against improper pre- and post-surgical discussions that can cause undue stress on the patient. These discussions can stem from radiological exams that cannot reliably exclude involvement from other parts of the body, overemphasized intra- and post-operative risks, and improper discussion of recurrences. Surgery should be considered in the early stages of the disease as it may relieve the patient's anxiety with future complications.
The authors also caution health care providers from discussing the unknown causes of endometriosis and treatment efficiency of endometriosis therapies with patients as this could also invoke some undue stress within the patient.
With endometriosis patients, doctors should address the chronic painful experiences as opposed to discussing the possibility of recurrences.
This may be a novel approach to the treatment of endometriosis, but it could alleviate undue strain from the doctor, patient, and their relationship.
---
---
Endometriosis Surgery
Stress
pathophysiology
doctor-patient relationship
DISCLAIMER
Endonews is designed to strictly highlight the most recently published scientific research that focuses on endometriosis. It is not designed to provide medical advice or an opinion on the best form of treatment. We highly stress the importance of not using this site as a substitute for seeking an experienced physician, which is highly recommended if you have any questions or concerns regarding your endometriosis needs. We believe in the consciousness of our reader to discriminate that research is different than "standard of care," and trust that they can keep in mind that here at Endonews, we summarize the newest peer-reviewed scientific medical literature, without bias.
<< Previous Article

Next Article >>