A comparison of symptomatology and histopathologic features in surgically resected colorectal endometriosis
Feb 18, 2021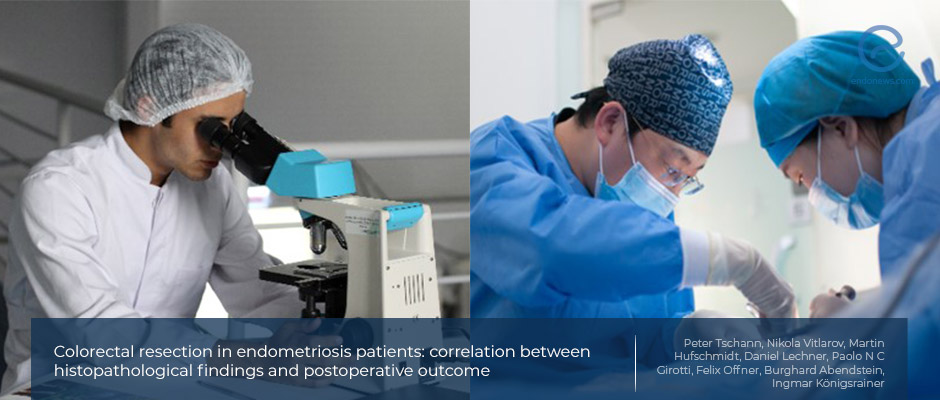 Retrospective assessment of surgically resected colorectal endometriosis
Key Points
Importance:
Bowel endometriosis requiring colorectal resection is associated with an important morbidity amongst young and healthy women.
Most of the patients' quality of life is adversely affected by pain, infertility, repeated operations and/or long-term medical therapy.
Highlights:
Colorectal resections due to endometriosis are challenging and a good aoutcome depends on the complete resection of the lesional bowel.
Background:
The properties of preoperative pain, histopathologic features related to endometriosis, and postoperative pain status have not been studied yet in endometriosis patients undergoing colorectal resection.
What's done here?
Twenty-five patients with laparoscopic colorectal resection for endometriosis in a five year period were retrospectively evaluated, and:

preoperative and postoperative pain symptoms
Histopathological microscopic findings of endometriotic bowel resections were compared.
Key Results
No difference regarding preoperative pain level, microscopic vertical infiltration depth, and presence of microscopical satellite lesions was found.
On the other hand, surgical complications during colorectal surgery for bowel endometriosis yield unavoidable high morbidities.
Limitations
There may be a bias due to the retrospective nature of this study, small sample size of the patients and the absence of a control group.
Lay Summary
Dr. Tschan and associates from Feldrich Academic Teaching Hospital, Austria published their retrospective research on patients requiring colorectal surgical resection for endometriosis in European Journal of Medical Research.
Bowel endometriosis requiring colorectal surgical resection causes important morbidity. The rectum and sigmoid colon are the most frequent involvement around 90% of intestinal endometriosis cases. Most of the patients experience diminished quality of life due to pain, infertility, and repeated operations besides possible long-term medical therapy. The histopathological features of endometriosis lesions in colorectal resections has not been studied in terms of their relation to pre and postoperative pain status.
Retrospectively, the resection material of twenty-five patients who underwent laparoscopic colorectal resection for endometriosis were histopathologically reevaluated and compared to the preoperative and postoperative pain status. Histopathological assessment revealed mucosa infiltration in 2 patients (8.0%), submucosa involvement in 6 cases (24.0%), and muscle layer involvement in 17 patients (68.0%). Endometriosis infiltrations in serosa were present in all. Satellite loci were observed in 6 cases (24.0%). Surgical margins were clear for endometriosis in all resections.
The overall pre and postoperative pain were evaluated and compated to the microscopic findings of the endometriotic bowel resections. Preoperative pain was always stronger than the postoperative pain, in other words the symptoms decreased significantly postoperatively. However, there was no relation of histopathologic depth of infiltration, presence of microscopical satellite lesions and pre or postoperative pain level.
The conclusion of the authors is "Deep infiltrating endometriosis is associated with a high number of preoperative pain and reduction of quality of life. Adequate colorectal resection leads to significant pain reduction. A histological association between satellite spots or vertical bowel infiltration to preoperative pain levels was not significant in our study. An experienced interdisciplinary team seems necessary to avoid intraoperative problems and to reduce morbidity regarding postoperative complications".
---
---
colorectal endometriosis
pain smptomatology
endometriosis histopathology
DISCLAIMER
EndoNews highlights the latest peer-reviewed scientific research and medical literature that focuses on endometriosis. We are unbiased in our summaries of recently-published endometriosis research. EndoNews does not provide medical advice or opinions on the best form of treatment. We highly stress the importance of not using EndoNews as a substitute for seeking an experienced physician.
<< Previous Article

Next Article >>